Battle of the Beach
VHFC has taken over officiating the "Battle on the Beach" high school surf fishing tournament. The annual contest has students from Lacey Township High School, Barnegat High School, Southern Regional High School and Mates Academy (Marine Academy of Technology and Environmental Science) of Manahawkin competing for top bragging rights on the beach in Barnegat Light on Thursday June 6th. This year's contest was fantastic and a great opportunity to enjoy a day on the beach and spend time with our future anglers The kids were fantastic and really appreciative for the opportunity to participate in the contest.
2019 VHFC Fourth Annual Fluke Tournament Click here
2019 VHFC Dinner on 21 September at Manera's Restaurant Click here
Fish of the Month Changes
If you thought 20 FOM awards were great, well for 2019 there will be 21! A new award for White Perch has been added with weigh ins accepted from April 1 through June 30.
Also new for 2019, if no weigh ins are made for a species for a specified period, the award will be added to the next time period that species is offered. See the VHFC Contest Rules pulldown under the Contest/Tournaments button on the Blue Banner across each page for further details.
VHFC T Shirts
New T Shirts will be available this year. Look for the order form in the April Newsletter. Sizes will range from XS (Extra Small) to 6XL. All sizes will be available in nine colors. Shirts have long sleeves and feature UPF 50 Sun Protection. White is shown in the photo.
VHFC Hats
New hats will also be available this year. Hats will be khaki colored, feature a high definition VHFC patch on the front and will sell for $20. See photo below.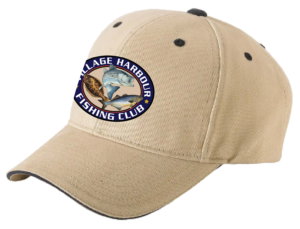 VHFC Dinner
Details are still being finalized but once again, VHFC will have a dinner in the fall at Manera's Restaurant in Manahawkin. Always a great time and a good excuse for members and spouses to gather for some fun! Vince Sibona will provide details as available.
Bottom Fishing Trip
Despite a small turnout, 5 VHFC anglers had a blast last fall with non-stop drop and reel fishing for jumbo porgies and an occasional seabass. Details for this year's trip will be provided later this summer.